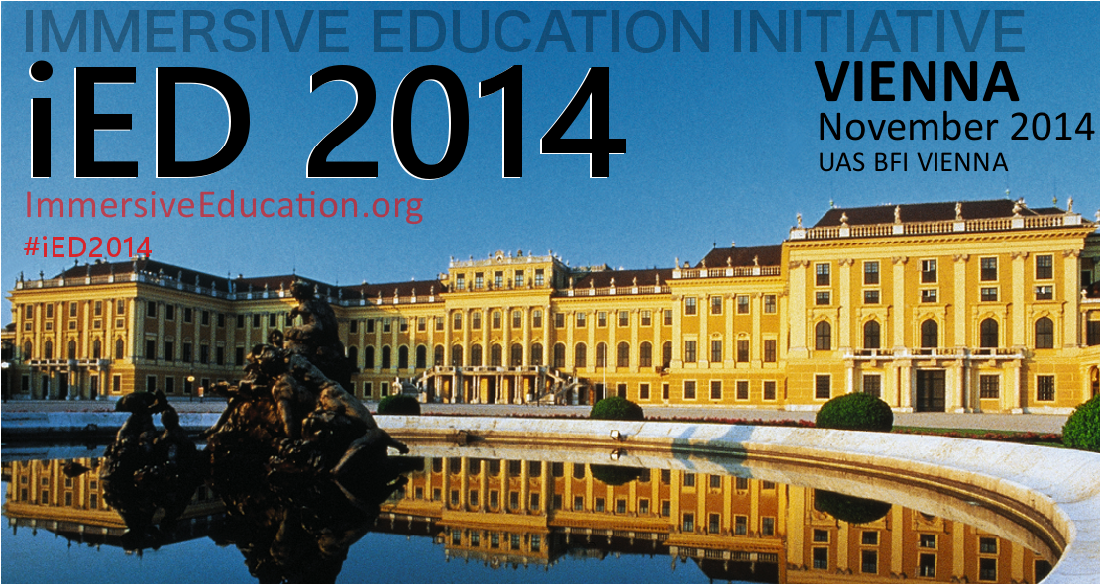 E-iED 2014 Summit || 1st Call For Special Tracks and Workshops
1st Call For Special Tracks and Workshops
4th European Immersive Education Summit
E-iED 2014 Summit
24th – 26th November 2014
Vienna, Austria
The Summit will be organized by and hosted at the University of Applied Science BFI Vienna in conjunction with Graz University of Technology.
We are happy to announce the first call of special tracks and workshops of the E-iED 2014 Summit, also available online http://europe.immersiveeducation.org/cfs2014
Detailed information about the E-iED Summit 2014 can also be retrieved from   http://europe.immersiveeducation.org/events/ied-europe-summit-2014
About the Summit
The objective of the European Immersive Education (iED) Summit is to bring together researchers, developers, educators, decision makers, and industry from all over the world. It consists of scientific presentations, poster sessions, panel discussions and break-out sessions. Fairly new is the hands-on demo stream, which combines a short paper presentation with an extended hands-on presentation for the attendees. Following a bottom-up way, special tracks and workshops cover emerging topics and trends suggested and organized by the community and focused groups. Also speed sessions enable participants to present an aspect of their work or interest in a fun and speedy way.  The summit will further offer a platform to explore research collaborations and give international research consortiums room to share their results.
Theme
Continuing the success of the conference series, the Fourth European Immersive Education (iED) Summit is focusing on "Science meets Business – From Innovative Research to Successful Services and Products". It covers broad aspects from emerging trends and technologies, sound research and best practices, to successful products and services. iED Summits feature virtual worlds, learning and motivational games, educational simulations, mixed/augmented reality, and related learning and teaching tools, techniques, technologies, and standards.
For the main conference, topics of interest in the context of immersive environments include, but are not limited to, the following:
Immersive Techniques, Systems and Devices
Behavioral and Pedagogical Analysis
Games and Entertainment
A Glance into the Future: Innovations, Challenges and Applications
Art and Creativity
Venue
E-iED 2014 will take place between the 24th and 26th of November 2014 in Vienna, Austria. Vienna, the main capital of Austria, located in the center of Europe, is well connected by its international airport and long distance train connections. Vienna is not only well known as a conference city but is also famous for its cultural variety as well as the quality and diversity of the cuisine.
Calls for Special Tracks and Workshops
E-iED 2014 Summit is committed to cover and provide a platform for emerging and community driven topics. Thus the conference will feature a number of co-located Special Tracks and Workshops which are intended to provide a forum for researchers and practitioners in immersive environments and education to discuss positions on current and emergent topics.
Special Tracks
Special Tracks are intended to be a forum for quality scientific research, which will be presented in scientific talks. Contributing papers have to undergo a peer review process and will be included in the conference proceedings, depending on the overall quality and track chair's decision, either as a full paper (10 pages) or as a short paper (6 pages).
Get more information: http://europe.immersiveeducation.org/calls2014#ST
Workshops
Workshop contributions are intended to cover a variety of aspects (from idea stages to practical experiences) in different presentation forms (such as talks, demonstrations, hands-on demo papers or round-table discussions). Contributions can include scientific full papers (10 pages), short papers (6 pages), or are required to be summarized in an abstract (1 page), and have to undergo an appropriate quality control.
Get more information: http://europe.immersiveeducation.org/calls2014#Workshops
Dates
Special Tracks and Workshop Proposals Submission: 20th February 2014
Acceptance Announcement:  3rd March 2014
Individual organization of call, submission & review process
Camera ready papers Submission: 26st September 2014
Main Conference and Special Sessions: 24th – 26th November 2014
Submission of Special Track and Workshop Proposal
For information on format, content and quality aspect form review, please check for
For submitting proposal, please use the submission system https://www.easychair.org/conferences/?conf=eiedsummit2014 and select the track "E-iED Special Tracks and Workshops" to add your submission.
Review and Publication
All submitted special track and workshop proposals will be reviewed by the Special Track Co-chairs and selected board members following the quality aspects published in the detailed call text. For the quality aspects  please refer to http://europe.immersiveeducation.org/calls2014#InfoST
E-iED Summit is currently under review for publishing in the CCIS Springer series. All full papers following the quality standards and selected short papers will be added in the indexed conference proceedings. The other papers will be added to a non-index proceedings volume assigned by an ISSN number and only online accessible.
General Organization
General Chair: Michael Gardner, University of Essex, UK
Local Chair: Kai Erenli, University of Applied Science BFI Vienna, Austria
Local Arrangements: Angelika Sönnichsen,  University of Applied Science BFI Vienna, Austria
Technical Program Organization
Program Co-Chair: Vic Callaghan, University of Essex, UK
Program Co-Chair: Christian Gütl, Graz University of Technology, Austria
Special Sessions Co-Chair: Carlos Delgado Kloos, Universidad Carlos III de Madrid, Spain
Special Sessions Co-Chair: Johanna Pirker, Graz University of Technology, Austria
Publicity & Public Relations: Anasol Pena-Rios, Engineering, University of Essex, UK
Publications Chair: Roxane Koitz, Graz University of Technology, Austria
International – North America Chair: Aaron Walsh, Boston College, USA
International – South America Co-Chair: Andreas Pester, Carinthia University of Applied Sciences, Austria
International – South America Co-Chair: Paulo Sampio, University of Salvador (Unifacs), Brazil
International – Asia Pacific Chair: Henry Duh, University of Tasmania, Australia
International – Europa: Leonel Caseiro Morgado, University of Trás-os-Montes e Alto Douro, in Portugal
International – Africa Chair: Mathy Vanbuel, Audiovisual Technologies, Informatics & Telecommunications, Belgium
E-iED Europe Summit Advisory Board
Francois Garnier, École Nationale Supériore des Arts Décoratifs, France
Beatrice Hasler, Interdisciplinary Center Herzliya, Israel
Daniel Livingstone, University of the West of Scotland, UK
Pasi Mattila, Center for Internet Excellence, Finland
Aaron Walsh, Boston College, USA
Program Committee