Maroon
Maroon (2013-now) is a interactive physics laboratory and experiment environment implemented in Unity3D, designed for active learning in the classroom or at home. It visualizes and simulates various physics experiments (at the moment solely electromagnetic experiments).
2017 GOLC Award for "Best Visualized Experiment"
Maroon support three main environments:
Maroon Web
Maroon MobileVR
Maroon VR
happy to announce that our VR physics lab #maroon got awarded as best visualized experiment!!! #madewithunity @unity3d #vr @tugraz_news pic.twitter.com/NeeAc5Tgh9

— Johanna Pirker (@JoeyPrink) March 19, 2017
The virtual lab:
Maroon VR
Abstract: Maroon VR is a three-dimensional immersive lab experience in VR. Different physics experiments are visualized and simulated and rendered in VR to engage learners in an innovative and emerging environment. Maroon VR is designed for two different learning scenarios: (1) a room scale virtual reality experience with the HTC Vive fully immerses learners into the lab. Learners experience a Tesla coil at close range and can interact with the electro-magnetic experiments and feel resistance through the controllers. The second (2) scenario implements the lab in fully mobile VR experiments with the Gear VR or Google Cardboard. Since most students already own a smartphone, this version is cost-effective and easily available and remotely and mobile usable. This version is designed to be used in the classroom and supports immersive and engaging learning in a mobile, stand-alone, and cost-effective way.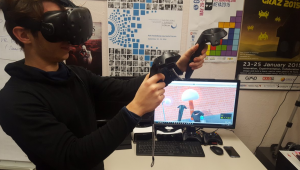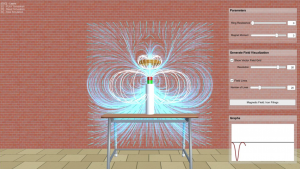 Maroon Mobile VR
Maroon Roomscale VR
Demos:
Further Simulations:
Publications:
Pirker, J., Lesjak, I., Parger, M., Gütl, C. (2017, March)  An Educational Physics Laboratory in Mobile Versus Room Scale Virtual Reality – A Comparative Study. In Remote Engineering and Virtual Instrumentation (REV), 2017 13th International Conference on. IEEE. (accepted)
Pirker, J., & Gütl, C. (2015). Educational Gamified Science Simulations. In Gamification in Education and Business (pp. 253-275). Springer International Publishing.
(Download, Book Chapter).
---
---
Credits:
Project Coordination: Johanna Pirker
E-Learning Expert: Christian Gütl
Physics Expert: John Winston Belcher
So many **fantastic** students were already involved in the development of this project!!
Development Team:
– VR Team: Michael Holly, Isabel Lesjak, Mathias Parger, Stefan Sgouridis
– Physics Team: Simon Oblasser, David Szammer, Michael Holly, Christopher Schinnerl, Christian Kartnig, Michael Schiller
– Networking Team: Patrick Hipp, Christopher König, Dominik Jeitler
UX Team: Michaela Heschl
---
---
Work in progress: 
New simulations by Michael Holly: